What is Workforce Planning?
Workforce planning aims to align the future workforce with the required skills based on a company's mission, goals and strategic plan.
Its central task is to identify the gap between the actual state and the target state and to precisely determine both the future headcount and the planned personnel costs and their changes.
In the international arena, workforce planning is often used synonymously with personnel cost planning and inventory planning, to which this article also refers. However, there are also broader definitions.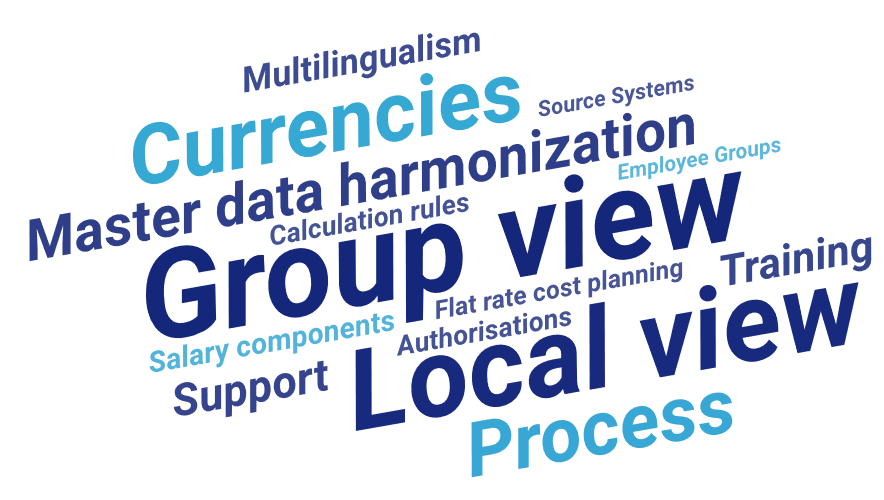 Why do you need workforce planning?
In times of a shortage of skilled workers on the one hand and global cost and competitive pressures on the other, HR planning as a whole has become extremely important. It must strike a balance between scheduling employees in line with requirements and at the right time, while at the same time keeping a constant eye on and actively managing HR costs.
And these personnel costs are quite high these days, especially in industrialized countries.
For example, if you examine the personnel costs of employees in the international Dax-30 companies, you find that successful companies in Germany have an average personnel expense of up to EUR 132,000 per employee per year, which, depending on the size of the company, can result in personnel costs in the billions. (Source: Statista)
This has a particularly large impact in service companies, where personnel costs are generally high, but personnel planning also takes on a high priority today in less personnel-intensive companies.
Inaccurate planning not only costs additional working time in personnel controlling. It can also cause expensive follow-up costs if the underlying data is not accurate enough and thus incorrect planning decisions are made.
What are the special challenges of international corporate structures?
The complexity of international companies and groups means that transparency and comparability of data is often lost the more multilayered the international locations are structured.
Global companies operate at several locations in different countries with highly different standards. This occurs under large differences in legal frameworks, collective bargaining regulations and different social insurance rates, while simultanously planning periods are inconsistent.
The global management of personnel costs and headcounts also faces the challenge that the national companies work with different HR systems to process their financial and cost center planning. This makes it difficult to get an overview and slows down processes unnecessarily. In the worst case, the lack of transparency means that bottlenecks in headcount or exploding personnel costs cannot be identified in time because comparability has not been adequately established.
Particularly with the complexity of international personnel structures, action planning and comparison of scenarios require a great deal of time in order to have the personnel data available in a consolidated, yet at the same time detailed form.
Workforce planning for global HR Controlling
It becomes clear that global HR controlling should not spend its time collecting and consolidating HR data in Excel. The focus should be on carrying out operational action planning in such a way that the personnel situation is aligned with strategic and operational goals.
Simple and efficient HR planning can greatly simplify planning runs to save precious time and energy.
Workforce Planning with PeoplePLAN
Based on more than 15 years of project experience with the management of planning projects in the HR environment, a global solution has now been developed for the first time as software-as-a-service in order to greatly reduce the complexity of HR controlling internationally.
All locations and employees worldwide can be mapped and planned on a single planning screen, all integrated with the local HR systems or imported via Excel import.
The user interface is designed to be user-friendly and can be operated intuitively thanks to uniform didactics, so that no long phase of conversion and familiarization is required. There is a defined set of rules for the local customizing of the calculation logics and a clean, stringent derivation of the authorized data objects.
PeoplePLAN is subject to an authorization concept in line with the DSGVO in compliance with data protection.
In PeoplePLAN, measures such as hiring, lay-offs, temporary lay-offs, and short-time work can be planned both at employee level, locally for individual sites, and across companies. It is also possible to subject entire site groups to a single action with just a few clicks, without requiring manual actual data research in the HR systems beforehand.
Different scenarios of the planned personnel measures can be projected in real time, taking into account various framework conditions, such as wage increases or short-time work.
Workforce Planning can work with or without integration into local HR systems. In other words, whether a company uses SAP SuccessFactors, SAP HCM or Workday and possibly other smaller payroll systems is irrelevant. Process harmonization does not even have to take place on the local systems, so all harmonization is done in a central and unified manner in PeoplePLAN.
Planning-relevant cost items per employee type are defined group-wide in the sense of standardization. Local mapping of wage types or pay components to group-wide standardized cost items enables the necessary comparability.
The integrated reporting of KPIs in HR enables transparent movement analyses and target-oriented control.
With regard to internationality, CubeServ offers front-end and master data texts in leading and selected local languages and data storage in local currency or query conversion into group currency.
Our Workforce Planning Offer
If integrated workforce planning is of interest to your company, we offer you the opportunity to try out our personnel cost planning solution for workforce planning without obligation and free of charge:
PeoplePLAN Workforce Planning free trial
We will also answer your individual inquiries on the subject of workforce planning at any time: